Romania Government Scholarship 2021 | Fully Funded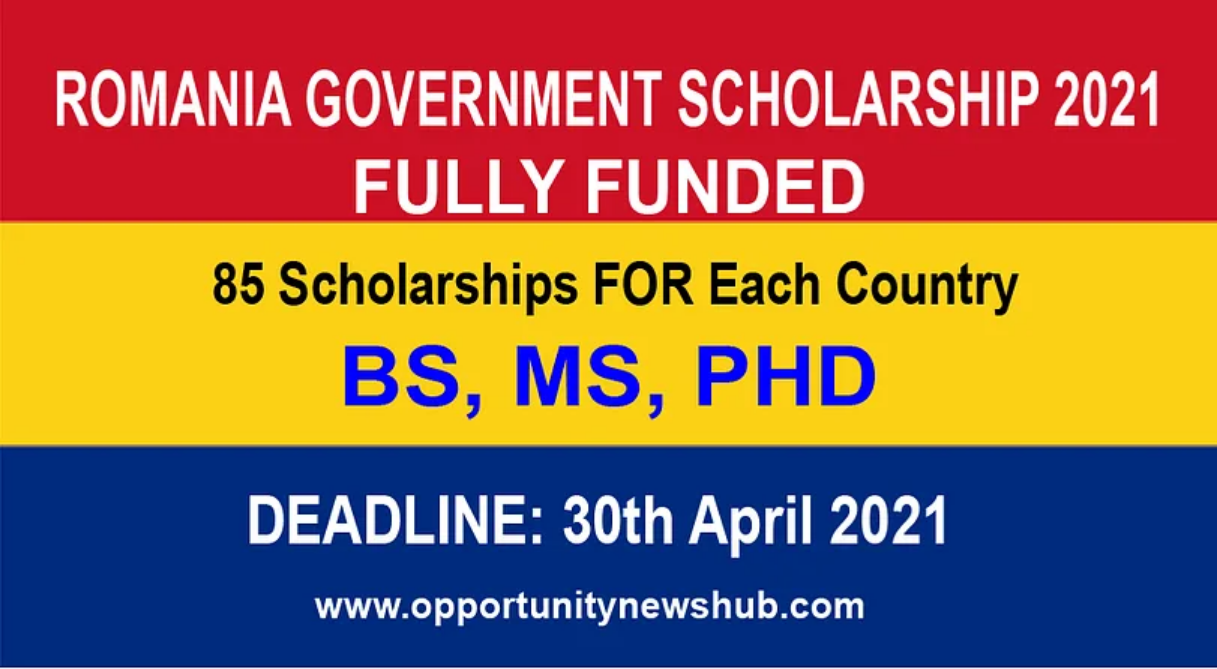 Romania Government Scholarship 2021 | Fully Funded Here is yet another opportunity to study in Europe without IELTS, Romanian Foreign Ministry is calling for scholarships in Europe for international students 2021 named the Romania Government Scholarship 2021. The Romanian universities scholarships are being offered under the Romania Government Scholarship. It is a Fully Funded Romania scholarship 2021 for all programs, Bachelors, Masters, and a Ph.D. Degree Program.
All nationalities are free to apply and the ministry of foreign affairs of Romania will bear all the expenses of fully funded Romanian government scholarships for international students in 2021. Bachelor's program scholarship duration will be from 3 to 6 years and the Master's level program will be from 1.5 years to 2 years. The duration of a Ph.D. degree scholarship will be 3 to 4 years. Romanian Universities offering a wide range of academic fields.
The good thing is there is no application fee or any hidden charges for this scholarship. The total number of scholarships is 85 for each country. The Romanian Government Scholarship is one of the most prestigious scholarships to study in Europe for free.
Romania Government Scholarship Details:
Scholarship Country:
Romania (Europe)
Total Scholarships:
85 scholarships for each Country
Study Level:
Undergraduate, Master, Doctorate
Scholarship Coverage:
Fully Funded
Application Deadline:
30th April 2021
Available Fields of Study:
Veterinary Medicine
Romanian Culture and Civilization Political and Administrative Sciences
Architecture Visual Arts
Oil and Gas, Journalism
Engineering, Education Sciences
Technical Studies
Agricultural Sciences
Social and Human Sciences
Scholarships are NOT awarded in the fields of Medicine, Dental Medicine, and Pharmacy.
Note: The scholarships are not available for medicine, dental and Pharmacy fields. The commencement of Classes will Start in November 2021. The Results of the selected candidates will be announced by July 15, 2021.
Also apply for these:
Brunei Darussalam Scholarship 2021 | Fully Funded
Study In UK Oxford University: The Weidenfeld-Hoffmann Scholarships and Leadership Programme
The European Space Agency (ESA) Student Internship Program 2021
The U.S. MEPI Tomorrow's Leaders Undergraduate Scholarship Program 2021
DAAD Distance Learning Scholarship 2020 Germany (Fully Funded)
  Study in Australia Deakin University Fully Funded Scholarship 2020
Fully Funded Global leadership Scholarship 2021- For Undergraduate & Graduates
Romania Government Scholarship Duration:
For Undergraduate: 3-6 Years
Master: 1.5, 2 Years
Doctorate: 3,4 Years
Scholarship Benefits & Coverage:
The Romanian Government Scholarship 2021-22 is fully funded and for all international students scholarship. Following benefits will be provided:
No tuition fee
Free Living
A Monthly Stipend:
An amount of 65 EURO/Month, for Undergraduate Students (1st cycle).
Amount of 75 EURO/Month, for Master Studies (2nd cycle).
For Doctorate students an amount of 85 EURO/Month (3rd cycle).
The scholarship does not cover international or domestic transport.
Required Documents:
To see the detail list of required documents please click on the given link:
Eligibility Criteria:
Foreign citizen, non Romanian and Non European
Upper age limit for Bachelor and Master id 35 years while for Phd is 45 years.
Romania Government Scholarship Deadline:
The last date to apply for the Romania Government Scholarship 2021 will be set by Each Embassy of Romania in Your Country. But the last date to receive the files at the Ministry of Foreign Affairs, Romania is 30th April 2021.
How to Apply?
To Apply for this latest scholarship in Europe, please click below