NECO Result Checker 2022 How to Check My NECO  Examination Results 2023 You looking for Neco Examination Results for the year 2022-2023 this Article Will Guide you to check your The national examination council (NECO) results Release date.
NECO Result Checking Token
Checking your NECO result in 2021 will require the use of token. To get the token follow this steps;
Visit NECO website at www.neco.gov.ng or result.neco.gov.ng/register directly to register an account and get started.
If you already have an account then login-in to get started
Once you are logged-in then proceed to buy the token online using any of the payment options.
Only one token is allowed per candidate but can be shared with candidate's parents, schools, organizations or any person who wish to view the candidate's results.
NECO Result Checker 2022:
The online system called Result Checker developed by the National Examinations Council, Nigeria which allows students to Check My NECO 2021 Exam Result, by simple flowing five (5) simple. Students can also email or print your result.
Step 1: Switch ON your laptop or mobile with an internet connection.
Step 2: Open Internet browser (Internet Explorer or Google Chrome)
Step 3: In address bar type "http://www.mynecoexams.com/results/"
Step 4: Select year Examination Type |SSCE June/July| |SSCE Nov/Dec| |BECE| |NCEE|.
Step 5: Select year of Examination |2022| |2023| .
Step 6: Enter your card PIN number "__________". (Your PIN is at the back of the NECO Scratchcard)
Step 7: Enter your Examination Number "__________".
Final Step: Click on "Check My Result" button.
Note: NECO Result Card is N300 only. (Naira)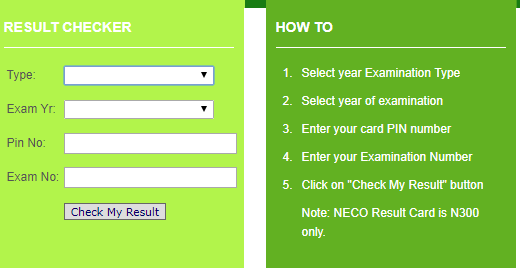 NECO Result Checker without scratch card:
Is it possible to check my NECO result 2021 Without Scratch Card Pin? "NO". You cannot check your NECO result without the NECO scratch card. Because the scratch card contains login details which will give you access to the official neco result checking portal.
By mistake, if you lost scratch card, contact the state NECO officer with the details of the missing card(s) as soon as possible.
Students buy such a scratch card which price varies from N300 to N500. Its official price is N300, but in some business centers it may cost nearly N500.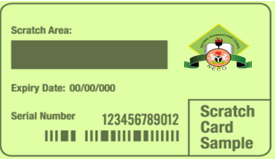 NECO Address: Helpline
 National Examinations Council (NECO) Western Bye Pass, Dr Nnamdi Azikwe road, P.M.B 159, Minna, Niger State, Nigeria.

Email

neconigeria@yahoo.com, support@mynecoexams.com

SUPPORT LINES


08069232760, 08052218069,

Website :

http://www.mynecoexams.com